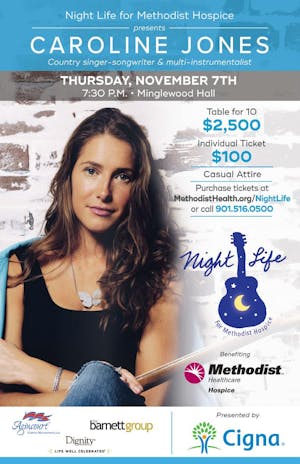 Caroline Jones
$100.00 - $5000.00
Tickets At The Door
On Methodist Hospice
The 2019 Night Life for Methodist Hospice event will feature country singer-songwriter and multi-instrumentalist, Caroline Jones
The 2019 Night Life for Methodist Hospice event will feature country singer-songwriter and multi-instrumentalist, Caroline Jones, for an up-close and personal concert event experience.
Proceeds from the annual event benefit Methodist Hospice to help provide care to patients in need of quality and compassionate end-of-life care, regardless of their ability to pay.
Thursday, November 7, 2019
7:30 p.m.
Minglewood Hall | 1555 Madison Ave. Memphis, TN
Tickets and Sponsorship information
General Seating: $100 per
Premium Table (for 10): $2,500
Sponsorships: $5,000 and up
Venue Information:
Minglewood Hall
1555 Madison Ave
Memphis, TN, 38104