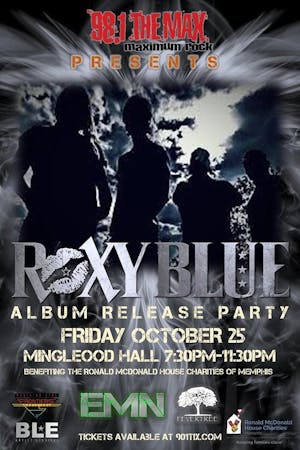 98.1 the Max Presents w/ proceeds benefiting the Ronald McDonald House
Roxy Blue
Every Mothers Nightmare, Fevertree
$15.00 - $20.00
Tickets At The Door
On 901Tix
Album release party for Roxy Blue at Minglewood Hall with proceeds benefiting the Ronald McDonald House of Memphis Charities.
Doors open at 7:30 pm and performance starts at 8:30. Every Mothers Nightmare will be performing as well. Ticket prices will increase on the day of the show. Cash bar will be available for those who are 21+. General Admission standing room ONLY. First come first serve basis.
Roxy Blue
Formed in Memphis, TN. in late 1989 by Todd Poole (vocals/ guitar) Sid Fletcher (guitar) Josh Weil (bass) and Scott Trammell (drums), Roxy Blue started out playing original music from the get go, with their sights set on getting a deal with a major record label. Knowing that getting a deal was not gonna come easy the guys started playing every gig they could get, opening for every band they could, just to get noticed in the local music scene. Living in a studio apartment above Cotton Row Studios, the guys were constantly writing and recording new songs and living a 24 hour rock 'n' roll life style. Quickly gaining major popularity on the local music scene, selling out all their shows they soon created a buzz in the music industry.
Now 27 years later Roxy Blue is still going strong. Signed to Frontiers Music with a new 2019 release. The band is ready to ROCK the world once again with a new label, new look, and new sound!!!
Every Mother's Nightmare
One of the myriad of hard rock bands to form during the '80s, Memphis' Every Mother's Nightmare, despite strong label support, was also one of the bands of the genre to be swept aside by the alternative rock acts of the early '90s. Formed in 1987 by lead singer Rick Ruhl and guitarist Steve Malone, they added bassist Mark McMurtry and drummer Jim Phippsto flesh out their lineup and became a successful draw in the clubs of Nashville and Memphis. Although McMurtry and Phipps both briefly left the following year (and were replaced), the two rejoined the band and, in April 1989, Arista's Clive Davis came to Memphis to see them perform. When the act with whom they were playing refused to let Every Mother's Nightmare use their lighting or sound equipment, they instead auditioned for Davis in a warehouse studio and impressed him enough to be signed a week later. Although metal had begun to run its course by the time they issued their self-titled debut in 1990, Arista pushed the band hard and "Love Can Make You Blind" received enough attention to give Every Mother's Nightmare a minor hit. It was sufficient enough to keep the label in the band's corner, including enlisting hitmaker Kevin Elson to produce the follow-up. However, by the time Wake Up Screaming was released in 1993, the band found that musical tastes had shifted so that it failed to meet label expectations. Dropped by Arista, the band underwent numerous lineup changes over the next seven years. In 2000, Ruhl returned with a new incarnation of Every Mother's Nightmare, which included guitarists Travis Hall and Jeff Caughron, bassist Troy Fleming, and drummer Kris "Newt" Beavers, releasing Smokin' Delta Voodoo through Perris.
Minglewood Hall Policies
What can you bring in? A Good Attitude to see a great Concert & Your Tickets or Will Call Info. A Valid ID (for patrons over 21 who wish to drink alcoholic beverages this is an absolute.)
Back Packs and Purses may be subject for search
Cameras – disposable & non-professional – this is show specific and determined by the artist. Email info@minglewoodhall.com the day before the show to confirm policy.
Audio Recording Devices – this is show specific and determined by the artist. Email info@minglewoodhall.com the day before the show to confirm policy.
PLEASE NOTE: Due to artist restrictions, some items listed above may not be allowed for certain shows. Please call or email info@minglewoodhall.com for show specific restrictions the week of the show.
What NOT to bring:
NO Outside Food or Beverage ,Alcohol, Lawn Chairs, Video Recording Devices, Coolers & Picnic Baskets, Firearms of any kind, Fireworks, Glass Bottles, Illegal Substances of any kind, Laser Pointers, Mace/Pepper Spray, Musical Instruments, Sharp or Dangerous items of any kind, Stickers/Decals, Weapons – of any kind, Umbrellas
IT IS OUR GOAL TO PROVIDE THE ABSOLUTE MOST FUN AND SAFEST EVENT POSSIBLE.
PLEASE REPORT ANY INCIDENTS TO A STAFF MEMBER AS QUICKLY AS POSSIBLE
NO MOSH PITS, SLAM DANCING or CROWD SURFING ALLOWED.
WE HAVE A ZERO TOLERANCE POLICY TOWARDS VIOLENCE OF ANY TYPE. ANY INCIDENTS WILL BE ADDRESSED BY THE EVENT SECURITY. ANY PERSONS INVOLVED IN FIGHTING OR VIOLENT ACTS WILL BE REMOVED FROM SITE AND/OR ARRESTED, NO EXCEPTIONS!
NO RE-ENTRY AT ANYTIME.
NO REFUNDS ON TICKETS PURCHASED.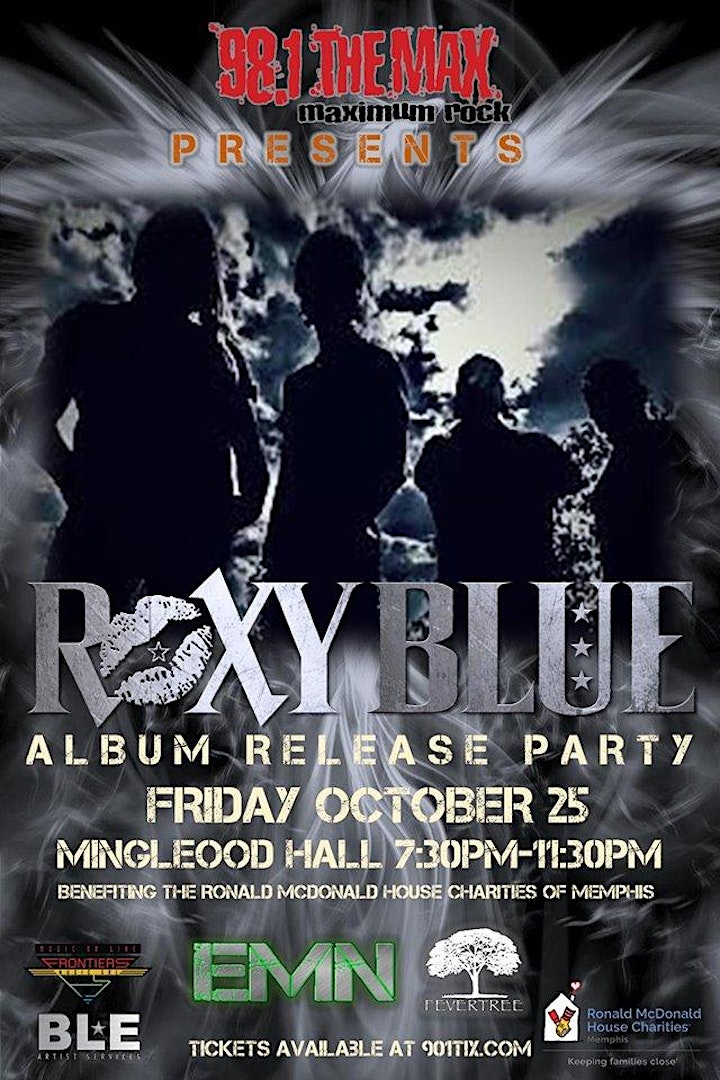 Venue Information:
Minglewood Hall
1555 Madison Ave
Memphis, TN, 38104